The Manchester Transport Museum Society
The Manchester Transport Museum Society Ltd is a registered charity, set up in the early 1960s as the Manchester Transport Historical Collection. The Society's aim is the preservation of documents and artifacts relating to public transport in the Manchester region.
The key project the group took on was the restoration of Manchester single deck California car 765. Having rescued the tram from the moors above Huddersfield, it was taken to the tramway museum at Crich in Derbyshire, where early restoration work took place. Further restoration was undertaken in Manchester and the restored car returned to Crich, operating for a couple of seasons.
The Society was keen to reopen the former tramway siding in Heaton Park which was still in existence under a layer of tarmac. The siding was originally built to allow special cars to operate from various parts of the city bringing Sunday School parties for days out in the extensive grounds of Heaton Hall.The aim was to operate 765 in its home city. Manchester City Council was approached during the 1970s and following negotiations a start was made on unearthing the existing tram rails.

(The original double track, uncovered and now in use again)
In recognition of the reputation of the Manchester weather, a large waiting shelter was provided at the end of the 280 yard siding to provide protection for those awaiting their return journey.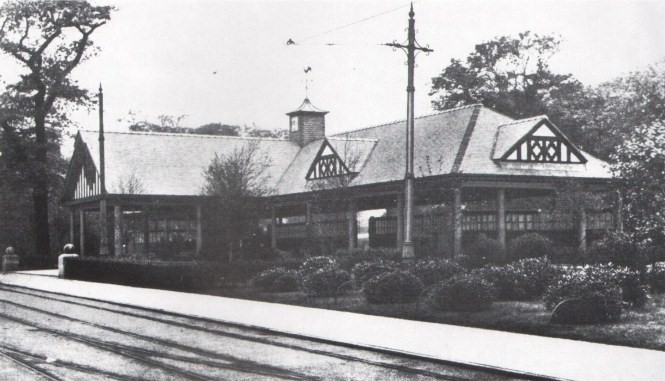 (The original tram shelter, MTMS archive)
By 1979 the former tramway shelter had been converted into a depot, a new siding laid and 765 transferred back home. The MTMS and City Council set up a jointly owned company, The Manchester Tramway Company Ltd., with a formal constitution to administer the tramway. Easter 1980 saw the official opening of the tramway by the Lord Mayor of Manchester.
Over the years, the original line was been extended three times and is now approximately 1km in length.

(Track laying, Christmas 1989 – R.Dunning)

(The 2011 team at the new terminus)
The present terminus at the boathouse area was reached in 2011 and is well placed in a busy area of the park. The line is operated entirely by volunteers. New members are always welcome.