Blackpool Replica Vanguard 619
619 is a replica of a Blackpool and Fleetwood Vanguard tram and was built in 1987. This tram was originally built in 1935 as Railcoach 282. It became 619 when the fleet was renumbered in 1968. In 1972 it was withdrawn from service and entered the works to be converted to a one-man-operated (OMO) tram. It re-entered service in 1973 as OMO 7 and ran in this form until 1987.
7 was transferred to the Mode Wheel works in Salford, where it was stripped and rebuilt as a replica Blackpool and Fleetwood vanguard tram by Bolton Trams Ltd. Various modifications were made compared to the original tram, most notably a centre isle to allow loading at the rear platform instead of open sides for loading.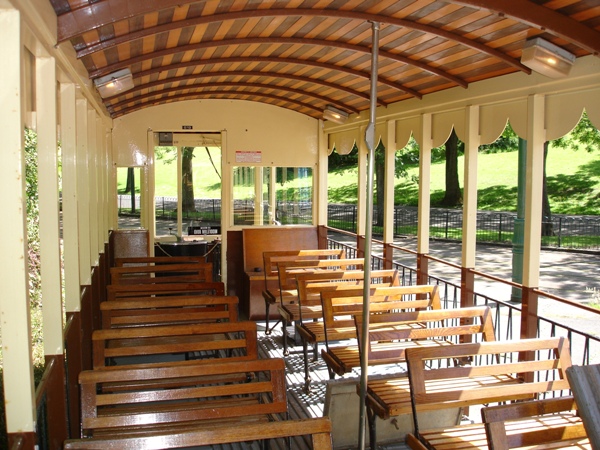 Returning to Blackpool, it operated in service on sunny days (and a few wet and windy ones!) until 2004. It was one of many trams 'mothballed' at the time, but returned to service for the 2008 Illuminations. It was very popular on Illumination Tours on the mild evenings that year.
In June 2010, 619 came to Heaton Park in exchange for Manchester 765 which went to Blackpool on loan for the town's 125th Tramway Celebrations.

After the 2010 season, 619 entered the works for a repaint and was renumbered 7. As well as operating as OMO 7 in Blackpool, it is also the 7th electric tram to operate at the park.


7 was relaunched on Easter Sunday (24th April 2011).

Following a spell out of service, 7 returned to service in March 2014 and was officially renumbered 619 on 21st April 2014.