Blackpool Brush Car 623 / 286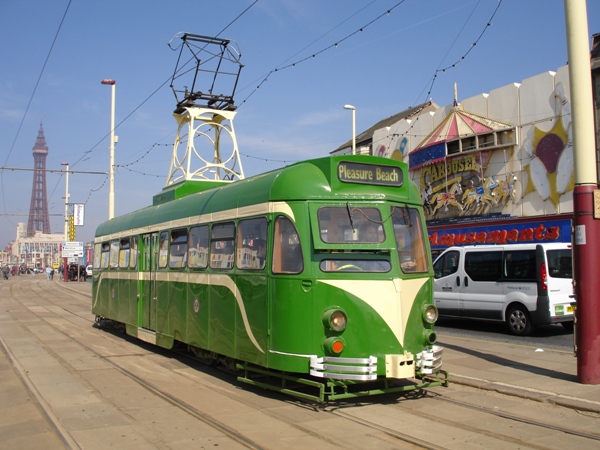 Built in Loughborough, Brush car 286 entered service in July 1937.
286 received several modifications over the years. It lost its sliding roof panels in 1964. The roof windows were panelled over in 1973. At the same time, the twin destinations blinds were replaced with the single indicator. Roof advert boxes were fitted in 1975. 286 was renumbered 623 in 1968.
In 1986, 623 received an advert livery for Sequins night club. This only lasted until 1987 when it was repainted with an advert for the Viking Hotel. 623 had a major overhaul in 1989. Ex-OMO windows were fitted, together with bus seats.
623 returned to service in 1990 in an advert livery for ICI Hillhouse. 623 was damaged by fire in the depot in October of that year. Repaired in time for the new season, 623 was repainted in an advert livery for Blackpool Zoo and the Sandcastle. Revised adverts for the Sandcastle followed in 1992. In 1995 623 was repainted in an advert livery for Main Street night club. The roof boxes were removed at this time.
In 1997, 623 received an advert livery for Pleasure beach show 'Mystique'. An updated advert appeared in 2000. In 2004, 623 was withdrawn and stored. 623 returned to service in 2008 in Wartime livery. In 2009 it operated as the Tram Driving Experience tram. 623's last day of service was 8th November 2009.
623's interior, featuring RM seats
In May 2010, Brush car 623 and Balloon 702 went on loan to the Museum of Museums at Trafford.
On 29th November 2011, 623 was transferred to Heaton Park.
It was officially launched into service on 22nd January 2012.